Décidemment, JORGE ALDERETE ne chôme pas et n'a pas finit de nous surprendre !
En effet, j'apprend
par mail
juste à l'instant qu'il vient de créer la première marque Mexicaine de jouets "pour adultes" (on s'entend, hein) en association avec un "designer industriel" de la capitale :

PLAN B

!

Vu le premier sample, autant dire qu'on attend la suite avec la plus grande impatience !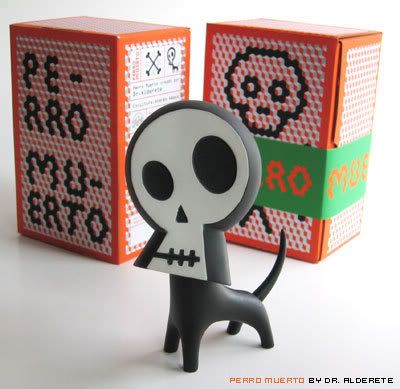 Plan B // 100% Mexican Urban Toys
The passion and initiative of two men who love toys made them join up to create the first Mexican vinyl toy production company. Industrial designer Andrés Amaya and, illustrator / designer Dr. Alderete, launch Plan B this July.
In a time when many dream of producing their toys abroad, these designers lay their bets on local production. Plan B, design, produce and manufacture in Mexico. They knew form a start that things would not be asy. Finding people who would guarantee quality, time and compromise; solving all the draw backs that production involve in a craft that is rarer in this country day by day; convincing small producer that this is possible and that ther is a market for it out there, almost making them as excited about the idea as the consumers. Many, many sessions of trial and error, unending, headaches, and an almost infantile enthusiasm, Plan B sees the light of day after several months of hard work.
On this first stage the designs will come from Amaya and Alderete, but we are sure we will have the work of other designers and illustrators in the near future, thus promoting and supporting toy production in Mexico as well as local design.
With Argenti-Mexican heart and soul, this proyect takes off on July, with the launch of its first toy, Dead Dog (PerroMuerto), designed by Dr. Alderete, followed by Cristos & Santos by Andrés Amaya reflecting life in Mexico and salvaging cultural elements such as religion and death, setting them appart from stereotyes and with 100% personal designs.
With the firm conviction that all dreams are possible, and knowing that if you fail once you can always try Plan B, the first 100% mexican vinyl production company is born.
Andrés Amaya
Born in Mexico City, he studied Industrial Design at the Universidad Iberoamericana, where he teaches since 1996. He studied a Design Master at the Domus Academy in Milán, Italy. He opens Bala Studio in 2000, to develop various projects involving furniture design, and the design of accesories and other products.
www.balastudio.com
Dr. Alderete
Born in the Patagonia, Argentina. Studied Desig in Visual Communication at the Facultad de Bellas Artes. He is an illustrator whose work is well known in Mexico and world wide. His work has been published in various specialized antologies such as: Illustration Now (Taschen); Illusive, Pictoplasma, Los Logos, Dos Logos, Latino, Play Loud, (Die Gestalten Verlag); Place (Actar); Tatto Icon 3 (Victionary). He is owner and co-founder of the Isotonic Records label. In 2006 with three other business partners he opened KONG design store and gallery.
Lancemment officiel le jeudi 05 Juillet à 19H
au Magasin KONG, México DF